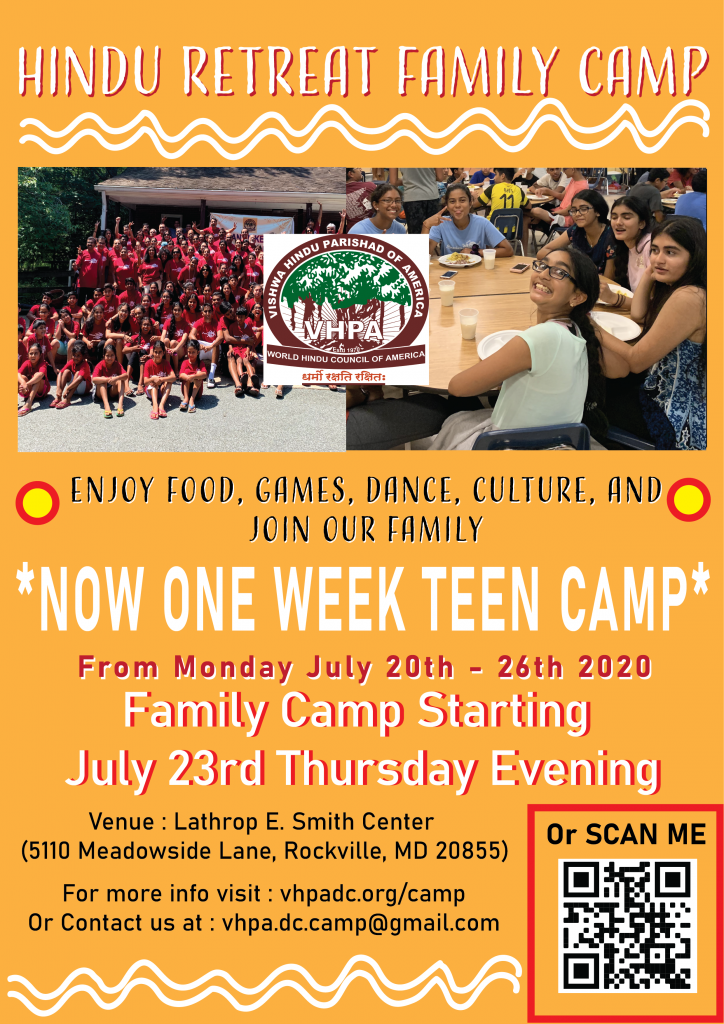 Family Camp:
Dates: July 23 eve to 26, 2020 at 12:00 AM
Week Long Youth Camp:
Dates: July 20 –  26 at 12:00 PM
Venue:  At Lathrop E. Smith Center (5110 Meadowside Lane, Rockville, MD)
Note:
Special activities like sports coaching, SAT preparation and Fusion dance & music are planned for children enrolled in the week long camp.
Children less than 13 yrs need to be accompanied by at least one parent during night.
If necessary, parents attending the camp on Thursday can leave for work and return in the evening.
Experienced youth interested in serving as counselors are advised to confirm their interest by sending email to <a "Ohm Sapa" . Please mention subject: Youth Counselor for Shantineketan Camp. The email must be received by May 30, 2020. We have limited position and hence it will be first come first serve for qualified candidates. Also please fill out this Counselor/CIT form.
To be a counselor,  the person has to be in college or completed college, and has experience as counselor in training (CIT) in our camp; Requirements for CIT  is that they have to be in high-school or above and should have attended our camp earlier. Children interested to be Counselor or CIT at camp need to fill out this Form.
Registration Fees (
10% off early bird discount ends March 31, 2020

):
Regular Family camp:

$90  per person;
$35 For children of age two to five years;
No charge for children age two and below;
Special discount for 3 or more campers from same family;

Teenager week long camp:
Counselor discount code can be obtained by contacting the counselor coordinator  "Ohm Sapa".
Registration Coordinators:
Mahendra Sapa: 301-377-3247 | Shivaram Sitaram:  301-602-5482 | Binta Pandya:  240-478-1690
Darsh Patel:  443-204-1363 | Manish Thouri:  240-547-7060
Ashwini Shetty:  732-882-2491 | Manish Chaturvedi:  571-577-3006
Email us at vhpa.dc.camp@gmail.com
2019 Shantineketan Camp Invitation
Some Videos and pictures from 2018 Camp
Camp 2017 Picture gallery
---
---
Camp 2014 was a memorable camp!
Click here for a report in pictures!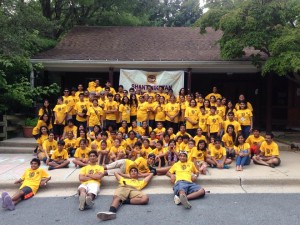 ---
---

What to expect from the camp?
Read the reports by past camp attendees of camps in 2009 and 2011 containing nice description of events and good pictures.
Like every year, camp coordinators put in a lot of efforts on providing a quality educational sessions regarding Hindu philosophy and its applicability for life, arts & crafts, games, group discussion sessions talent show are integral part of the camp. Also people who have been attending this camp for many years always relish mouthwatering Indian and international food prepared by our volunteers. The camp provides an ideal relaxation, fun and learning experience for the entire family.
Also HSC camp is on memorial day weekend, for college students and (senior high school students) information and registration is at http://hindustudentscouncil.org/