Classes starting from March 11, 2019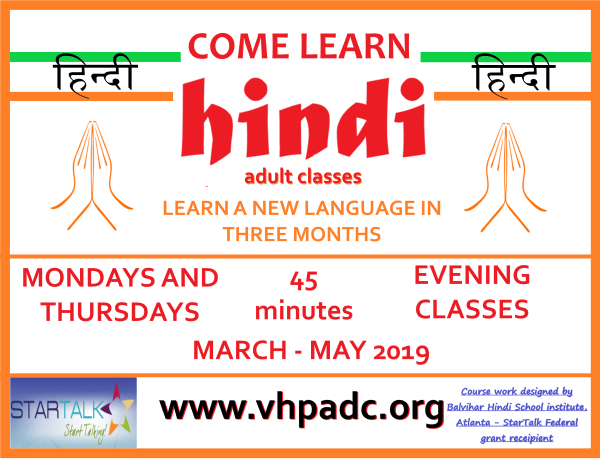 Interested in learning Hindi in small settings remotely? 
Fill out Google Hindi Language Skills Assessment form.
World Hindu Council of America (VHPA) has been teaching in-person Hindi classes at few of it's chapters since past decade.  Lately we have been receiving inquires from adults as well to learn Hindi.  So giving into popular demand among adults, here we are introducing online Hindi Language classes for adults only.
This program is being designed by our guide Manju Tiwari ji, Hindi Language programs lead at Atlanta Chapter (regular recipient of Federal Government StarTalk program grants); and local DC Chapter volunteer lead Vibhuti Saxena ji, professional Hindi teacher.
Here's some basic information.
Total of 18 to 22 classes starting from about 2nd week of March;
Online classes on Monday and Thursday evenings at 08.30 pm;
Average about 8 students per class;
Detailed schedule and syllabus will be released once audience (students) current skills assessment is complete;
Registration Fees of $350 will be due immediately after registration is confirmed.
Interested folks are required to complete online skills assessment given below.