Dates: Monday July 30 – Sunday Aug 5 @ 1 pm (7 days)
Camp Site 1 / Children's Camp (Day Camp 09 AM – 4 PM):
Dates: July 30 – Aug 1 (Monday – Wed)
Venue Options:
Burtonsville Elementary School, 15516 Old Columbia Pike, Burtonsville, MD 20866
Germantown (Tentative)
Herndon, VA (Tentative)
Camp Site 2 / Family Retreat (Overnight):
Dates: Aug 2 – 5 (Thursday – Sunday @ 1 pm) – you have option to stay overnight at Rockville location
Venue: Lathrop E. Smith Environmental Education Center, 5110 Meadowside Lane, Rockville, MD 20855
Notes:
Children below 13 needs guardian to stay overnight. Guardian will have to register for overnight camp separately.
You have option to drop off teenagers @ 09 am; and parents have option to come in after work.
All Payment Information is handled securely by Stripe. We (Shantiniketan Camp) do not have access to any of your payment information.
Experienced youth interested in serving as counselors are advised to confirm their interest by sending email to vhpadc@gmail.com. Please mention subject: Youth Counselor for Shantineketan Camp. The email must be received by May 30, 2018. We have limited position and hence it will be first come first serve for qualified candidates. Counselors will receive 25 – 50% discount based on their performance at the end of the camp.
Registration Fees:
$250 for 7 days camp (July 30 – Aug 5). This includes day and overnight camp as stated above
– 10% discount for early registration by March 31st 2018
Registration: Click here to REGISTER
Some Videos of Camp 2017
Camp 2017 Picture gallery
---
---
Camp 2014 was a memorable camp!
Click here for a report in pictures!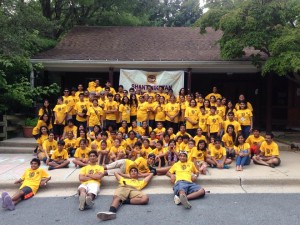 ---
---

What to expect from the camp?
Read the reports by past camp attendees of camps in 2009 and 2011 containing nice description of events and good pictures.
Like every year, camp coordinators put in a lot of efforts on providing a quality educational sessions regarding Hindu philosophy and its applicability for life, arts & crafts, games, group discussion sessions talent show are integral part of the camp. Also people who have been attending this camp for many years always relish mouthwatering Indian and international food prepared by our volunteers. The camp provides an ideal relaxation, fun and learning experience for the entire family.
Also HSC camp is on memorial day weekend, for college students and (senior high school students) information and registration is at http://hindustudentscouncil.org/