BalVihar Hindi Classes: Germantown, MD
An educational program of World Hindu Council of America (VHPA)
Germantown Bal Vihar Hindi school is an educational program of World Hindu Council of America.
Hindi classes are held for kids of various age groups at Germantown, MD. We teach children Hindi by immersing then in Hindi and Indian culture. Classes follow Montgomery county school schedule. New sessions start in September and go on till June.
Location: Kingsview Middle School, 18909 Kingsview Rd, Germantown, MD-20874
Day and time: Thursday 7:00pm – 8:00pm
•2nd Thursday of every month will be In-person and rest all Thursdays will be virtual.
•Switch between virtual and in-person is subjected to change if Covid situation changes
If you have questions contact us.
Shivaram Sitaram: 301-602-5482; Manish Thouri: 240-547-7060
Field trip during Diwali celebrations at Germantown Hindi classes: Kids visited local Fire station to share sweets and candies with the fire fighters. They also got to see the fire engines.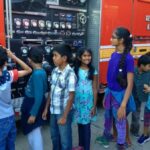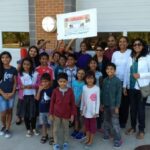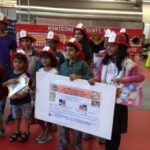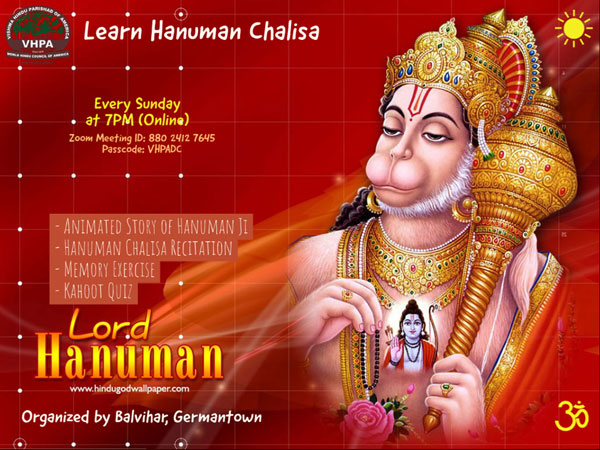 Balvihar Hindi Classes Germantown
Hindi Class Schedule for the academic year 2022-2023
Days Class Scheduled
Major Hindu Festivals / Notes
Date
Comments
Sept 8, 2022
In Person Class
1st Day of Class
Ganesh Chaturthi on Friday, September 10, 2022

Course Overview to the parents and students.

Sept 15, 2022
 In Person Class
Vishwakarma Puja (Engineer/Architects Day)
Sept 22, 2022
Sept 29, 2022
No Class
Navaratri begins from Sep. 26, Celebration in class on Oct. 6th.
Oct 6, 2022
Saraswati Pooja and Durga Ashtami on Oct 2; Maha Navami on Oct 3; Dussehra on Oct. 4
Oct 13, 2022
In Person Class
Oct 20, 2022
Diwali Celebration in Class
Oct 27, 2022
 No Class
Diwali Begins,
Dhan Teras is on Oct 22; Narak Chaturdashi, Roop Chaturdashi is on Oct. 23, Diwali is on Oct. 24; Govardhan Pooja is on Oct 25; Bhai Dooj is on Oct 26
Nov 3, 2022
Nov 10, 2022
 In Person Class
Nov 17, 2022
Nov 24, 2022
No Class
Thanksgiving Holiday
Dec 1, 2022
 Geeta Jayanti (Dec 3)
Dec 8, 2022
In Person Class
Quarterly Evaluation
Dec 15, 2022
Dec 22, 2022
Christmas is on Dec 25; Winter break starts from Dec 23.
Dec 29, 2022
No Class
No Class – New Year
Jan 5, 2023
Swami Vivekanand Jayanti on Jan 12
Jan 12, 2023
 In Person Class
Celebrate Makar Sankranti, Pongal, Lohri on Jan 14
Jan 19, 2023
Jan 26, 2023
Feb 2, 2023
Vasant Panchami on Feb 16
Feb 9, 2023
 In Person Class
Feb 16, 2023
 Maha Shivaratri on Feb 18
Feb 23, 2023
Mar 2, 2023
Holi Festival – Mar 6 (Holi Dahan), Mar 3 (Color Holi)
Mar 9, 2023
 In Person Class
Mar 16, 2023
 Quarterly Evaluation
Mar 23, 2023
Yugadi, Gudipadwa on Mar 22; Start of Hindu new year, based on Lunar calendar; Year (3102+2023) (since the beginning of Kaliyuga), the Year 2079 based on Vikram Samvat; the Year 1945 based on Shaka Samvat
Mar 30, 2023
Celebrate Ram Navami Mar 30
Hanuman Jayanti on Apr 5
Apr 6, 2023
 No Class
No class – Spring break (MCPS) From Mar 31 to Apr 10, 2023
Apr 13, 2023
 In Person Class
Apr 20, 2023
Apr 27, 2023
May 4, 2023
May 11, 2023
 In Person Class
Mother's Day on May 08
May 18, 2023
May 25, 2023
Preparatory Exam
Jun 1, 2023
In Person Class
(2 Hour Final Exam)
Jun 8, 2023
Final Day of the class
Jul 24 – July 30, 2023
Shanti Niketan Camp
Welcome back to the Shantiniketan Camp